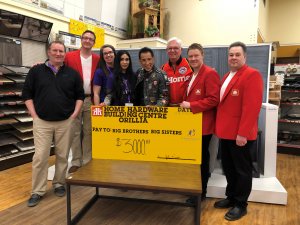 On May 8th Big Brothers Big Sisters of Orillia was the recipient of a $3,000 donation from Home Hardware.
"We are delighted to be named the recipient of the proceeds from the event." said Amanda Tevelde, Community Relations Coordinator for BBBS. "It was a great opportunity to get out and not only thank the team at Home Hardware but also those who supported the event."
Home Hardware, along with designer Simon Chang, hosted the fundraising event in support of BBBS Orillia.  Guests were able to purchase raffle tickets for the grand prize of a living room set valued at over $2,000 as well as Simon had t-shirts available for purchase with proceeds from both the raffle tickets and t-shirts being donated to BBBS.
Everyone was treated to refreshments and goodies throughout the evening as well as the chance to rub elbows and take pictures with the one and only Simon Chang, said Tevelde.
Simon is a one of a kind designer who not only creates amazing pieces of clothing but also loves to give back.  When he saw John Locke speak at a conference, Simon immediately knew that Orillia's Home Hardware was a perfect fit for him.
"At a time when our community's needs are continually growing donations such as the one from Home Hardware allow us to be able to match more children and youth with mentors," added Tevelde.
100% of funds raised by BBBS Orillia stay in the community and are used to run in-school, after-school and one-on-one mentoring services for more than 350 kids in the area.
By making a financial donation with the agency you are making a long term investment in our kids and our community…an investment worth making, added Tevelde.
Contact BBBS Orillia today if you would like to find out more information about how you can help match more children with a much needed mentor. Call (705) 325-3151 or email volunteer@bbbsorillia.ca.