Big Brothers Big Sisters of Orillia and District are excited to announce their newest partnership with Moondog Cornhole! Melissa Panagakis, Fundraising and Development Coordinator was delighted when in the coldest months of winter she received a message to the agencies Instagram about a hopeful summer event. It came from Mike Nieleszeruk, owner and creator of Moondog Cornhole, who reached out and offered to host a Cornhole Tournament with BBBSOD for the Bigs and Littles.
"It was definitely uplifting," said Melissa. "During a time when the cancellation of many of our events was the reality, this gave us something positive to look forward to. We have missed seeing our matches in person and we believe this will be an amazing way to connect everyone safely in the summer months."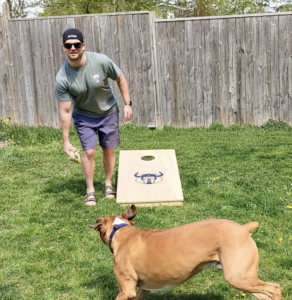 BBBSOD is currently working with Moondog to plan a carnival themed cornhole tournament for the Bigs and Littles to finally see each other in person again. They will be setting a date once restrictions are lifted, and it is safe to do so. As for the future of this partnership, the possibilities are endless. They are already planning to host a much larger cornhole tournament fundraiser next summer.
When asked why Mike had chosen to work with BBBSOD, he stated "I wanted to give back to an organization that gives so much of themselves to the community already. I have always been a big fan of what they do and have seen first-hand how much the organization means to people. I am excited at the future together,  starting with some small events introducing the mentees and mentors to the sport of cornhole and later building towards a massive fundraising event."
Mike first discovered his love for cornhole at an event in Cleveland, Ohio. He began making his own cornhole boards out of necessity as he could not find them here. Since then, it has grown into his company today. Mike runs Cornhole leagues in Orillia, Innisfil and Alliston.
BBBSOD is so grateful for individuals and businesses like Moondog Cornhole who step up to help continue their mission to ignite potential in the children and youth of Orillia and District.
You can check out Moondog Cornhole at www.moondogcornhole.com or on Instagram at @moondog_cornhole