Liza remembers when her daughter, Tabitha, began to smile again.
Liza's partner died when Tabitha was eight years old, and the effects of that loss on her young daughter were obvious. So, Liza found her some company: a big sister through Big Brothers Big Sisters of Orillia and District.
"For the first time in a year, I saw my daughter smile," Liza told an audience Wednesday night at the local organization's annual Volunteer and Donor Appreciation Event at the Orillia Museum of Art and History.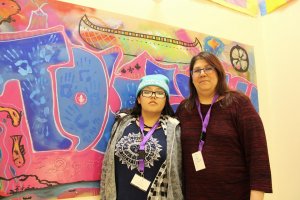 Tabitha, now 13, then took to the microphone and explained the ways Big Brothers Big Sisters has helped her.
Her first big sister left for school two years ago. So, a year later, she was matched with another.
She also took advantage of the organization's guitar program.
"I made new friends. It was really nice," she said.
First-hand stories about how kids benefit from Big Brothers Big Sisters are exactly what the roomful of supporters needed to hear, according to James Maxwell, executive director.
"As you listen to the kids and you hear their stories of what this program means to them, it's very rewarding," he said. "Kudos to all of you for your support. We will use every hour and every dollar to the best of our ability."
Several volunteers were recognized at the event for their years of service, and donors for their financial support. Some Big Brothers Big Sisters of Orillia and District volunteers have been with the organization for more than 20 years.
The organization holds a number of fundraisers throughout the year, the next one being Bowl for Kids Sake, which will take place in April.
For more information, visit bbbsorillia.ca.