Big Brothers Big Sisters Annual Hockey Tournament, formerly Brewery Bay Oldtimers tournament
Check back for pictures of our tournament, and a list of this years winners!
50/50 draw and prize raffle winners
The winning ticket for the 50/50 draw is: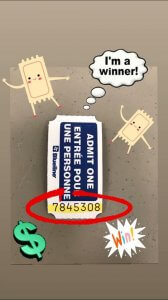 Congratulations! This year's 50/50 pot is $285! Please notify your team to check their 50/50 tickets and see if they are a winner!
This is the winning number until 11:59pm on Monday January 20th 2020. If this ticket number is not claimed by the deadline, a new winning ticket will be announced on Tuesday January 21st 2020.
Check your tickets and contact us at 705-325-3151 if you are the winner!
Please check back for a list of winning tickets in the prize raffle!